What is TrustRank? 11 Ways to Increase TrustRank for your website
TrustRank may be a term you've heard a lot about, but not everyone pays attention to this metric. Because Google has hidden the TrustRank index and there is no tool to score TrustRank for the website. But Google still takes TrustRank as a criterion to evaluate the quality of your website. So what is TrustRank, what factors makeup TrustRank? Let's learn about TrustRank with me in the article below!
TrustRank (also known as Authority) is the trustworthiness of a website to search engines. A website with a high TrustRank must be a website that complies with the criteria that search engines evaluate. The higher the TrustRank is, the more likely your website is to rank high on the search engines.
Find out what is TrustRank?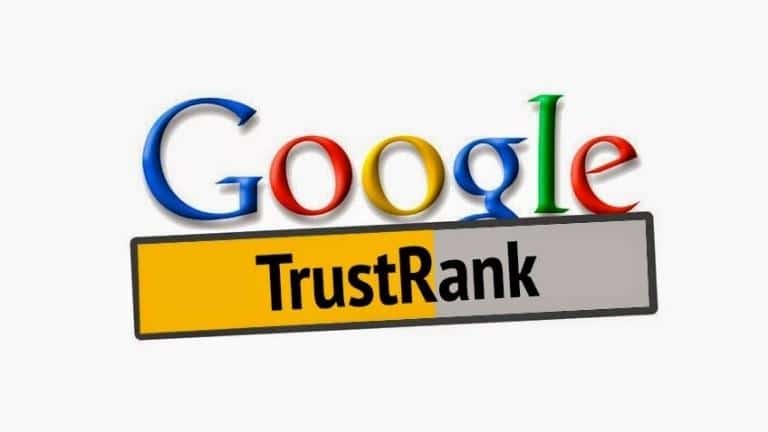 You can imagine TrustRank as a shield to protect a limited website from being fouled by opponents, shooting bad backlinks. In many cases, you may be fouled by your opponent, but Google Search Console doesn't notify you in time, your website has been shut down.
Through TrustRank, Google will evaluate the current status of the website, analyze backlinks, remove spam websites with the goal of improving high rankings for websites that meet the criteria.
Factors affecting TrustRank
To optimize search engines to increase TrustRank, SEOs need to pay attention to the following factors:
The domain name: The Domain name exists for a long time, is mentioned in many places and the website works well, so its reliability is also high.
Domains grow naturally: Domains that are not spammed, never penalized by Google will have a higher TrustRank.
Backlink: Backlink is always an important factor for website ranking, reliability assessment is no exception. So right when you start building a website, you should build it through high PR sites, domain names ending in .edu, .gov, .org.
Error 404: Error 404 of the website means low Trust and vice versa.
Limit External Link: When you put too many External Links – link to an external website, then you are transferring the flow of your PageRank power to someone else's website. Therefore, it is necessary to limit the rate of placing External Link in the article.
How to increase TrustRank for the website?
The following are the factors that help to increase the TrustRank for the website, which I have drawn from Google's guidelines:
1. Brand Domain
This is your domain name and brand name. For example, you are in the business of "SEO services", you can name your website domain name "jillw58.sg-host.com".
How to get your brand name or service to name your domain name will make your keywords more favorable in SEO.
However, if you do not know how to SEO properly, it is easy to be penalized by Google and even if your other factors are up to standard, it is still very difficult to get to the top sustainably.
2. The About Page
This is a company profile page that helps users gain more information and trust about your company. So, invest in content for your company's introduction page, the more information you provide, the more Google appreciates it.
3. The Contact Page
This is a page that provides your company's contact information for customers when they need to contact or learn more about your company on other platforms.
The information in this section usually includes:
Company name
Phone number
Address
Email address
4. Privacy Policy & Terms of Service
These two pages play a big part in whether your website ranks or not. Because the content of this page is set up to protect the interests of customers.
Therefore, Google will greatly appreciate your website when providing transparent information to users. From there, SEO to top Google will also be more convenient for you.
Where to provide information related to the interests of customers
The content of these two pages you do not have to create or write new, to save time you can completely copy the content on other websites, then change the information accordingly, and then post it on your website. without fear of being penalized by Google.
The reason you can copy the content for these 2 sites is that almost every kind of policy is created to serve the interests of customers, so Google will not be strict in your copying content.
5. Outbound Links
You can put some outbound links from your site that redirect to other sites so that will help Google trust your site more.
However, note that you must find out in advance about the websites that you will put links to, absolutely do not link to bad websites with such malicious content that will accidentally affect your website and you. There is also the risk of being penalized by Google.
Many of you are also worried that putting such outbound links will make the site less powerful. It is true that your website power will be reduced a bit but Google will still appreciate your website and increase your TrustRank score for you.
If you are afraid that the outbound link will lose strength points, then you can nofollow the link so you won't have to worry about your website losing strength points anymore.
6. The Bounce Rate
Bounce Rate is the percentage of visitors who leave a website without taking any action, such as clicking a link, filling out a form, or making a purchase. Google will base on the Bounce Rate index to score TrustRank for your website.
The bounce Rate should be in the range of 60% to be the most stable.
7. Blog
Often will provide articles sharing knowledge and experience in a certain field. If you do not have a blog section, then I recommend you invest in your website right away.
Because when you update information, share knowledge and provide more value to customers, Google will prioritize and score TrustRank for your website.
Users after reading the article, if they have any questions or comments, will often leave a comment in the comment box below each article.
If your article has more comments, it means that your content is quite interesting and is being interested by many people. Google will base on that to evaluate your website as a quality website that provides useful content.
9. Do not copy content
You absolutely must not copy content from other sites because sooner or later you will be penalized by Google Panda.
Some of you have used the method of spin content, but even if you do, you will still be penalized by Google. If you have the spin content, I recommend you only do it for satellite websites, and for your main website, it is best not to spin content.
10. Chrome Bookmarking
When you read good content on a certain website or newspaper, you tend to go to that website and read new articles. For the convenience of users searching, Google has designed the Bookmarking feature with a star shape.
You just need to click on the star image and save it on the bookmarks bar to easily access the website you want instead of having to search on Google like before.
It is the star used to store in the bookmarks bar that will be the criterion for Google to evaluate the TrustRank score, if your website is bookmarked by many people, Google will identify your site as a website with good content.
11. Google News Website Backlink
Google News is rated and approved as the most trusted website on the Internet. A website to be featured on Google News really has to be rigorously evaluated before it gets there. You need to know that this is not easy.
So you have to create something really believable to get noticed, for example, research on Google's evaluation criteria to improve the website. The main content is the most important factor to be evaluated and reported.
If you appear in Google News and make it a backlink for your website, the credibility of the site will increase.
Google will rely on user satisfaction and Google bot to analyze the authority for each website. So during the process of building and developing a website, you must regularly optimize the factors related to TrustRank to be appreciated by Google and it will help you avoid negative SEO.