What is Referral Traffic? 9 Ways to x2 Website Referral Traffic
Have you ever used the Google Analytics tool to track and analyze your website's metrics? This is a useful tool for your SEO process.
If you look closely you will see that there is a Source/Referrals section in the Google Analytics Tool. So what does this referrals element mean?
Google Analytics referrals index – track referral traffic links
Looking at your website's recent traffic analysis on google analytics, you can see a significant change in referral traffic over a period of time and then return to the original traffic levels. So what happened?
What is Referral Traffic?
How does it affect your website?
How to increase referral traffic for the website quickly?
No need to think much more, I have the answer for you. Find out now!
What is referral traffic?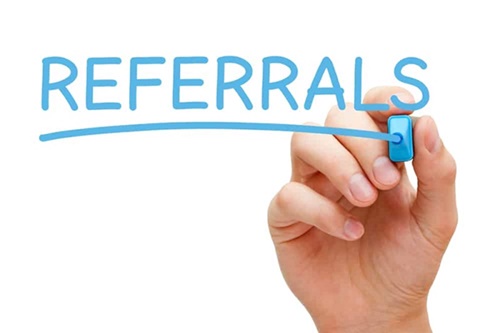 Referral traffic is a term that describes traffic to a website through links from other websites but not through search engines.
Most marketers share one important goal:
Increase the amount of traffic to the website to increase the conversion value and bring in revenue for the business.
There are different tactics to accomplish this goal:
Search engine optimization (SEO)
PPC Implementation – Paid Clicks
Blogging
Marketing on social media.
However, these tactics all have limitations:
SEO takes time
PPC is expensive
Google is becoming oversaturated with a lot of blog content
Social media has always had the problem of proving ROI.
An extremely effective and important but often overlooked tactic is referral traffic. How can you use referral traffic to attract potential customers?
When users click on a link on a website or social network, they will be taken to another website. Tracking software like Google Analytics will count that visit as 1 referral traffic.
The website was originally called a "referrer" because it referred to traffic to another website.
The importance of referral traffic
Increase traffic for the website
Referral traffic is very important for your website. It can help your website reach users from other websites with the same audience.
Therefore, your website will attract a lot of traffic through trusted websites. From there, these visitors can become your new customers.
Bring quality customers
Based on this list of referrals, you can determine the interests, search needs of customers, the topics they are interested in, …
From there, optimize the content to suit the user audience, increase conversion value, turn users into your customers.
Support long-term SEO strategy of businesses
In addition, referral traffic also has SEO benefits. Acquiring customers is not everything. It also helps your website appear at the top of the search results, greatly supporting your SEO strategy – an important long-term strategy.
Users access reputable websites that link to you, so there will certainly be a certain credibility for your website.
Let's try to imagine:
If you own a reputable website, do you want to recommend a website that is not reputable or not useful to your users?
Of course, me neither!
9 Methods to increase referral traffic

To increase referral traffic for your website, the first thing you must make sure is: Create an attractive article on your own website. Then apply the 9 methods I will share below:
1) Post on community blogs
Posting articles on community blogs – what is referral traffic?
Blog posts create many opportunities to attract users to your website. On most blogs, there should always be an external link, author info, and a CTA – Call to Action.
If you have a featured post on a popular website, you will get a huge amount of traffic and backlinks to your website. Ideally, focus on the top websites in your industry.
Example: If you work in the marketing industry, the US marketing community would be the perfect place for you to post.
Note:
Focus on websites related to your industry. No one wants to read about fall and winter fashion trends on a gun & ammo blog.
Set your mind while writing (think of the user first)
Associate posts with influencers in your niche. They will notice and help promote your post on their own blog. This will help increase referral traffic.
2) Comment on the blog
Write a comment on the blog comment to increase website traffic – referral support
A question often asked:
Do blog comments help SEO?
Not only can it help with SEO, but it can also increase traffic to your website. Just make sure you don't spam other websites' backlink comments.
A few tips for you:
Provide valuable comments. No one likes someone who complains or brags. If it's negative, it's best not to comment.
Focus on blogs that allow inserting links in comments. Remember, you are trying to increase traffic to the web.
Therefore, always insert the link of your website in the comment section or the section containing the comment account information.
Instructions for inserting links in blog comments
In this section, instead of inserting a youtube link like me, you can directly enter the link to the homepage or the page where you want to increase referral traffic.
Put links pointing to your website at the top of the comment list.
3) Active on forums
Regularly provide valuable knowledge on forums – what is referral traffic?
Online forums are a great source to engage with potential customers. However, this source is often overlooked. Similar to blog commenting, you should focus on forums in the same field as you.
Some tips for you:
Make sure the forum is active. Don't waste time on a forum that hasn't had a single post for a month.
Register using your exact name along with the brand name. For example, I use the name Jackie – CEO & Co-Founder SEO approaches.
Invite people to share. This is how you will drive traffic to your website.
It is advisable to participate in the areas of the forum in which you have the most expertise.
Provide real case studies. Don't just give advice. No one likes a know-it-all. Please try to provide personal experiences.
Share useful knowledge for the forum with a link pointing to the website.
4) Put your website on review sites
The method of putting the website on the list to be reviewed on a reputable website
Review sites are a great source to drive more traffic.
When customers want to buy a certain product/service, they will compare suppliers or products through review websites. It's great to be able to put your product or service on these sites.
Note:
Website must be on the list of reviews of related fields
The review website must be reputable
Your website receives positive reviews from users
5) Create a video marketing campaign
Build a video marketing campaign to increase referral traffic
Not only the attractive content/text will increase traffic to the website. Implementing video marketing can yield unexpected results.
Note:
Must be aware of the motivation for implementing a video marketing campaign.
Clarify the topic and format of the content for the video.
The content of the video follows the narrative style to increase the connection with the user.
Use call-to-action (CTA) buttons to drive users to action.
6) Take advantage of social networks
Take advantage of social networking sites to get referrals quickly
According to Social Media Examiner – 1 social media marketing community statistics:
89% of marketers have indicated that social media creates more opportunities for their business. And 75% attributed the increased website traffic to their social media efforts.
And this is also how I usually apply to my website.
Using accounts Facebook, Twitter, LinkedIn, YouTube, Google+, Instagram, and Pinterest are the top 7 social networks used by marketers.
Social media advertising is not just a trend. It's also a tactic that most marketers are using to increase business traffic, leads, and sales.
Every time you like, share or pin a piece of content, you have the opportunity to:
Increase traffic to your website.
Posts show up at the top of Google rankings.
Doing:
 Share the content of the article on the social media channels you are active in
Need to optimize content suitable for each platform: Facebook, Instagram, Youtube, …
Attach a link to the article on the website
Calling users to share articles
7) Send value-delivering emails at the right time
Sending emails that provide value at the right time to users – what is traffic referral?
Email newsletters are an extremely effective source of referrals for your website. For SEO approaches, email marketing is a channel that brings a lot of quality referral traffic.
With the condition:
The email contains the useful value
Email sending time depends on the target user
Classify user groups by many factors: age, gender, user concerns, … to send emails.
Attach a link to your website/article.
Sending emails that provide useful value, at the right time, will increase the likelihood that users will visit your website. Of course, help increase referral traffic for your website.
8) Guest Posting
This is the most effective way to increase traffic compared to the ways above that you can apply.
Identify the problem you are writing about.
Find blogs/websites that are related to your website topic and have the same customer files you are targeting.
Statistics into a list that can blog posting.
Note: You should choose relevant pages and have UR ​​smaller than your website's UR to increase the likelihood of being accepted for blog posting.
Statistics contact information by:
Go to the website's Home page or the Contact page to find the email address.
Email content blog post content agreement and cost per post.
Follow up until they get their response (good or bad)
9) Create infographics (images contain information)
Infographic is very suitable for the saying: "A picture is better than a thousand words".
The infographics you create need to be liked, shared and pinned on social networks. Others will include these graphics in their posts if helpful. From there, you can create a link to your website.
Conclusion
Now that you understand what referral traffic is, why do you need referral traffic?
However, you should always ensure that:
Your articles on the website or the information you share must be really quality to motivate users to refer.
Apply the 9 simple methods I listed above to increase traffic quickly and sustainably for your website.