3 Determinants of Success in SEO 2023
Not beyond 2 years has considered a tumultuous time with SEO-er worldwide witnessing the sweep of Google when directly penalizing a series of websites with tightening policies. So far, this still makes a lot of SEOers extremely confused and don't know what is working right now.
This article will give the 3 most effective factors, and also the most core to my success in SEO (Search Engine Optimization) work.
Whether you are studying at a center or self-study web SEO, it is very important for you to avoid making 20 technical SEO mistakes and understand these 3 factors.
There are many factors that determine the success or failure of SEO, but if you have been following me for a long time, you will know that, for me, in the end, there are only 3 factors:
Make Google understand what your website is about (relevance)
The website must have great power and trust (reputation).
Do not "over-optimize" your website
These 3 factors in my opinion are the most important because it is the core issue, the foundation that any SEO without understanding or misunderstanding, the website will not be able to get to the top or if there is an increase in ranking. Regardless, it cannot be sustainable over time.
Make it easy for Google to understand your website
You own a company that provides SEO services, so how does Google understand what your website is talking about?
Here are 5 factors that help Google understand the content of a website arranged in descending order of importance.
Domain
When you name a domain (domain name), if the root of your domain contains keywords, this will greatly affect your SEO, your SEO work will be much easier.
Why? Simply, when you name it SEO, you have made a partial commitment to Google: "I will write about SEO" similar to SEO approaches, it's even better than: "I will write about SEO services, and at this point, Google will definitely give you more points in these areas.
Of course, I am not saying that domain names containing brand names will not be good for SEO, but just that, domains containing keywords about the field are much more advantageous.
URL
Naming the URL (domain name, weblink name, eg jillw58.sg-host.com) with the same name as the subject area of ​​the website is the most effective way for Google as well as readers to understand what your website is talking about. . Because, when Google looks at your website, the domain, title, and URL are the first factors it considers. So these are the 3 things that largely determine the relevancy of your website.
Normally, you can put the keyword name in your URL, but this will lead to over-optimize your website.
Anchor text
Anchor text is a word or phrase inserted into an article that contains a link to another page. It can be said that anchor text is an extremely important factor in letting Google bots track your links and understand your website.
When a user searches for "SEO service", the Google bot will proceed to get the database (data previously stored by Google) or will go around looking for the most potential websites for this keyword.
At this time, your website will have the advantage of appearing on the first page of Google when there are anchor texts related to SEO services that lead to links.
Title
The website title is the 3rd factor that contributes to making Google and readers understand the topic of your website.
When Google looks at a website when crawling on the internet, Google will look in the order of preference Domains > Url > Title > Content. Because Title marks an extremely important milestone in your SEO Top Google, you should choose keywords with a lot of search volume (or your main keyword) to put in the title.
Content
Content is considered the final factor in helping Google understand what your website is about.
Perhaps many of you will disagree with me on this, but the truth is that I have seen many SEO projects without any content other than relevancy in domains, URLs, titles, backlinks (anchor text) and still get to the top.
That said, it's not to deny content, in fact, SEO is just a tool for marketing, if you don't have content, how can you sell and build a brand?
For me, content is an indispensable thing when doing marketing, and more than that, there are many people out there, with just a content marketing strategy, but still SEO to the top of a series of keywords thanks to the viral content of the internet on the internet that helps them elevate their brand.
There are many other ways for Google to understand your website, however, above are the 5 most important and fundamental factors.
Do not "over-optimize" your site
This is what makes more than 95% of the SEOers out there "sorrow" and never make it to the top, or do it all the time but still get stuck on page 2, page 3, and don't even make it to the top 100.
Over-optimize is the practice of high-density keyword stuffing or sending thousands of spammy links from blog comments, forums, or both to your own website.
Over-optimize can come from both SEO on-page and SEO off-page or either. Up to 95% of SEO-ers are over-optimized off-page. This has caused their website to be underestimated by Google in terms of trust level, unable to reach the top no matter how much effort is put into it.
SEO On-page
Good SEO On-page optimization will create a solid foundation to help the website grow in rankings. However, optimizing overdosage is counterproductive.
Eg:
Your title tag is MacBook
Your content only has 500 words, while 30 of them are keywords (meaning every few sentences the word MacBook appears once).
Your URL keeps repeating certain keywords over and over.
Overdose Onpage optimization will be counterproductive.
SEO Off-page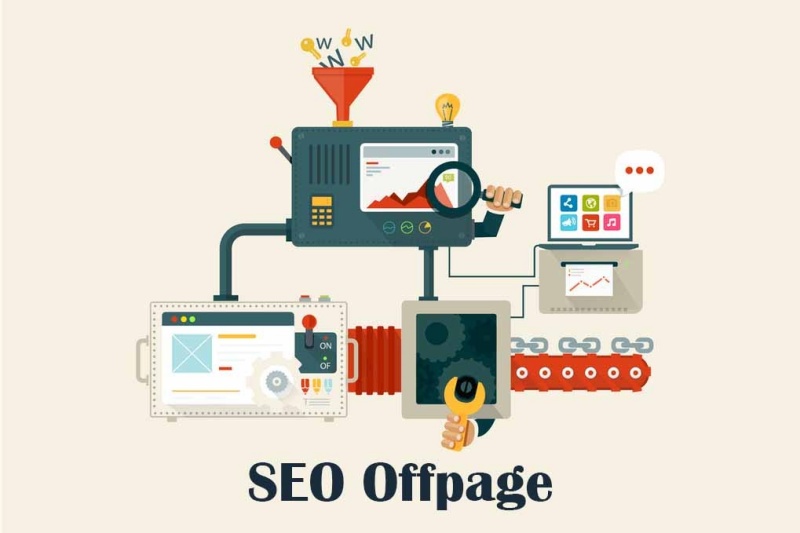 Many links leading to your site have only one anchor text (Example: 50 links from many different websites all lead only to the article How to SEO to the top of Google) or the anchor texts are all links and anchor text keywords.
The density of anchor text containing too many keywords can cause your website to be penalized.
I know that many of you wonder about the proper use of anchor text and how to deal with backlinks penalized by Google Penguin and over-optimization.
The website must have great power and trust
As stated above, making Google understand the website content and not over-optimizing it are the two core factors that help you increase your rankings on Google's search results, thereby driving traffic to the web.
However, the third factor – creating power and trust for your own website through finding relevant backlinks and building relevance is the most difficult.
A question you can ask now is: "Who will Google give to the top in search results when there are so many SEO service providers overall Website doing the same two ways?"
The answer is the Strength and Trust of the website. These 2 factors are evaluated based on DA – domain authority (or DR rating of ahrefs) and PA – page authority (or UR according to Ahrefs) and TrustFlow (Majestic SEO index) mainly.
The strength and credibility of the website are thanks to quality backlinks.
Many people mistakenly believe that PR (page rank) is very important for a website, however, this metric does not say anything about your website. For the simple reason, since 2013, Google has stopped updating the PR of all websites and by February 2016, it was removed from the rating scale by Google.
Instead, using Moz's DA, PA, and Trust Flow (TF) or DR (domain rate), UR (URL rate) scores from Ahrefs and TF to evaluate websites will be much more accurate.
This explains why websites that achieve absolute trust such as amazon.com, bbc.com, or Wikipedia, … and other major sites easily top the Google rankings.
The question is, how can you increase your website's DR and UR or TF (TrustFlow) score? The easiest way is to build quality backlinks to your website. As for me, I use PBN (Private Blog Network) mainly
You must understand that, both now and in the future, QUALITY IS DECIDES, NOT QUANTITY.
So, focus on finding quality backlinks (the more the better) and not focusing on getting valuable backlinks in large numbers.
In a word, this method is like getting the trust of everyone (even though everyone doesn't know who you are) when taking a photo with Bill Gate – the famous American billionaire.
Whoever you are, in that photo, part of Bill Gates's talent and popularity has passed on to you, making everyone believe that you must have something special. talent or wealth) to appear with Bill Gates like that (even though you may not have any talent at all).
This is much better than taking a picture with 5000 people, taking a picture of shaking hands with Bill Gates alone is much better.
I hope that my above article gives you an overview and orientation for the upcoming SEO for you and your work.